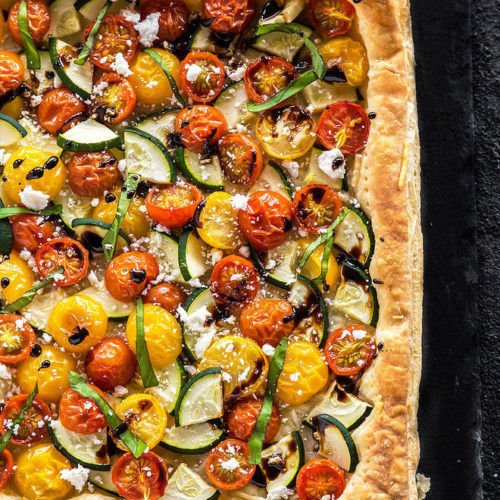 Prep Time: 15 mins
Cook Time: 20 mins
Total Time: 35 mins
Tart Ingredients
2 cups ricotta
¼ cup heavy cream
Kosher salt and freshly ground pepper
3 tablespoons olive oil, divided
2 sausage links, sliced or crumbled
1 small onion, thinly sliced
1 small zucchini, sliced and quartered
3 – 4 tomatoes (or 30 – 35 grape tomatoes), sliced
1 package frozen puff pastry, thawed
1 large egg, beaten to blend
5-6 basil leaves (or fresh chive) to garnish
Glaze Ingredients
1/4 cup balsamic vinegar
1 tablespoon maple syrup
salt a pinch
black pepper a pinch
Recipe
Preheat oven to 425°. Whisk ricotta and cream in a small bowl; season with salt and pepper.
Heat 2 Tbsp. oil in a large skillet over medium-high. Cook onion, stirring occasionally, until soft and starting to brown, about 5 minutes. Add sausage and cook until browned.
Lightly roll out pastry on parchment paper just to smooth out creases. Transfer on paper to a baking sheet. Lightly score a 1″ border around pastry. Brush with egg; bake until golden and slightly puffed, 10–15 minutes.
Remove from oven and spread ricotta mixture over pastry, staying within border. Scatter the onion and sausage mixture, and the raw sliced zucchini on the up. Bake until zucchini is soft, onion is starting to caramelize, and pastry is golden brown and baked through, 20–25 minutes. Let cool.
While the tart is the oven, make the balsamic glaze. To a pan add balsamic glaze, maple syrup and pinch of salt and pepper.
Bring the mixture to a boil and keep stirring till it thickens. This will take 3-4 minutes, be careful not to cook it too much else it will thicken a lot and you won't be able to pour it over. You will know it's done when it coats the back of your spoon. Remove pan from heat at this point.
Once the tart is done, take it out of the oven. Sprinkle fresh basil and crumbled feta cheese all over.
Drizzle the prepared balsamic glaze on top. Serve immediately and enjoy!